Business & Personal Loans
How much are you looking to finance?
Business & Personal Loans
Business & Personal Loans
Whether it is expanding your business or funding for life's big events, finding a good finance option can always be complexed, tricky and tiresome. The lending market has hundreds of lenders and thousands of products, and the terms and conditions could all vary even between similar products.
Banks and other major financial institutions may be your first go-to option but they may not be willing to provide you with amount of funds you are seeking or they may have application turnaround times that are longer than what you can wait for.

At SC Brokers, we will provide you with an efficient, transparent and worry-free lending experience. Our experienced brokers will guide you through the process, assisting you in carefully assessing available loan options so that you do not end up with a loan that has terrible interest rates or terms, or is simply much less than what you had hoped for.
Below are just Some of the Benefits of applying with us:

Our brokers have extended experience across different types of loans, so in instances where you are not sure which type of loan suits you or your business, or where one type of loan does not work out, we will be able to recommend you a suitable option/alternative. Our brokers have serviced clients with financing needs for purposes ranging from business expansion, franchise investment, property investment and development to large purchases, unexpected bills and emergency repairs.

We have access to a wide range of finance products and we look to provide a one-stop-shop for all your lending needs.

We work closely with lenders and in the best interests of our clients, which means that any rate reductions/rebates/specials are passed on to our clients directly.
Application Steps are as easy as One, Two, Three: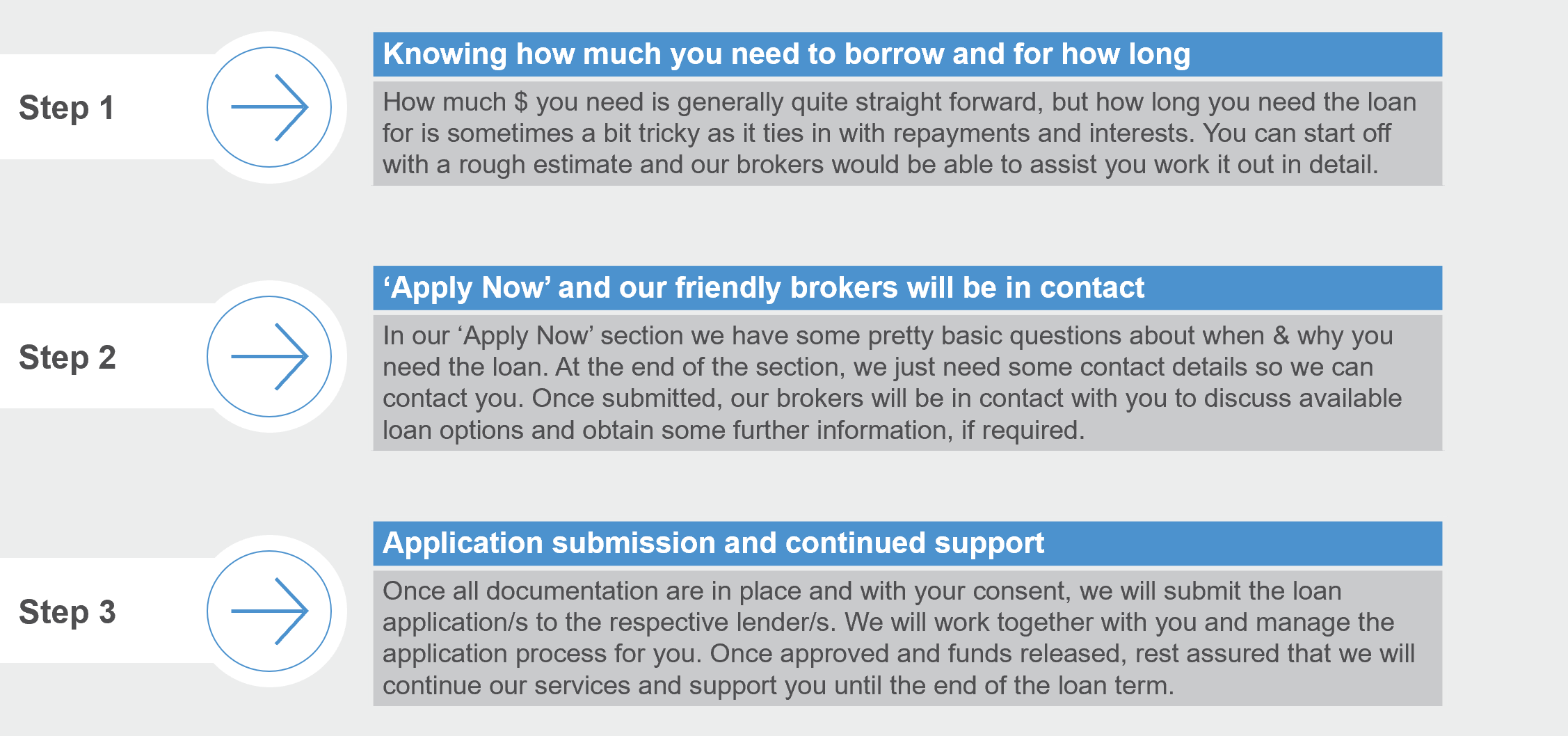 Click Apply Now to find out more.